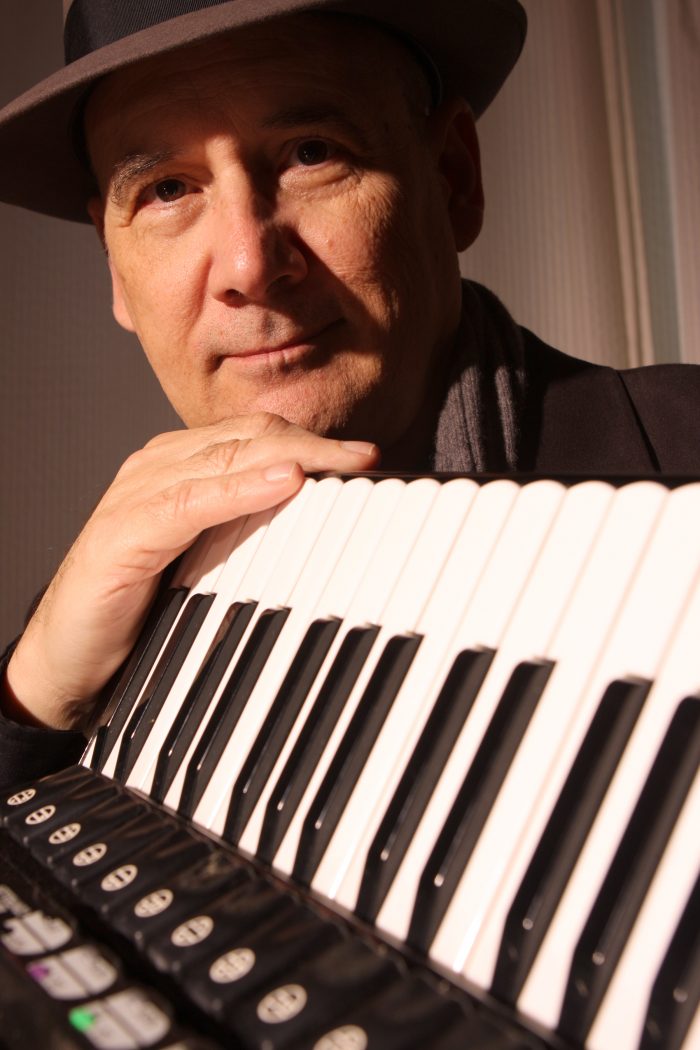 Guy Klucevsek is one of the world's most versatile and highly-respected accordionists.
This outstanding composer, accordion virtuoso, and improvisor has been a major contributor to the accordion renaissance of the last 25 years. His music reverberates with sounds of the ballroom, the beer garden and the concert hall, fusing elements of regional accordion styles with jazz and avant-garde music.
Forget everything you thought you knew about the accordion.
The Seattle Weekly
Performances, releases, news
Dec. 1. 2023: HOPE DIES LAST Digital-Only Release
Starkland releases my latest album, "Hope Dies Last," in digital-only version (with booklet).
Performers include accordionists Bachtopus (Robert Duncan, Peter Flynn, Mayumi Miyaoki, Jeanne Velonis), Alan Bern, Will Holshouser, and myself; Jenny Lin on piano, Todd Reynolds on violin, and the LA-based violin/cello duo, The Smudges (Jeff Gauthier, Margaret Parkins); with a vocal cameo by Jerome Kitzke.  New works 2015-2021, plus a new arrangement of a work from 1988.
AMAL QUARTET
Oct. 7, 2023, 7 PM:  Concert of original music by Guy Klucevsek performed by the Amal Quartet:  Volker Goetz, trumpet and fluegelhorn, Jeff Hudgins, alto saxophone and voice, Doug Wieselman, clarinet and bass clarinet, Guy Klucevsek, accordion and compositions.  Snug Harbor Cultural Center, Newhouse Gallery, Staten Island https://snug-harbor.org/event/2023-newhouse-after-dark-the-amal-quartet/ To purchase tickets in advance:  https://snugharbor.my.salesforce-sites.com/ticket/#/events/a0S8V00000UtoG6UAJ
Steinway Record Release
Release of "Kancheli: Simple Music," Jenny Lin, piano, Guy Klucevsek, accordion
Score: Breathless and Bewildered
BREATHLESS AND BEWILDERED (2009), (For Ivan Milev), for solo accordion (standard bass)
Score: Awakening
AWAKENING (1987) for free bass accordion
Score: Bandoneons, Basil and Bay Leaves
BANDONEONS, BASIL AND BAY LEAVES (1993) for free bass accordion
(in memory of Astor Piazzolla)
Score: Three Tributes
THREE TRIBUTES (2016), for Solo Accordion (standard bass)
(commissioned by the American Accordionists' Association)
Score: My Walk with Ligeti
MY WALK WITH LIGETI (2007) for Solo Free-Bass Accordion
Free Scores to some pieces now available
Livestream Performances from 5/14/2022
1