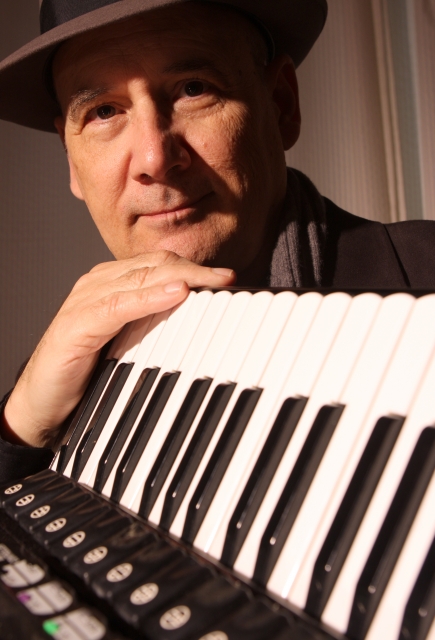 Guy Klucevsek is one of the world's most versatile and highly-respected accordionists.
This outstanding composer, accordion virtuoso, and improvisor has been a major contributor to the accordion renaissance of the last 25 years. His music reverberates with sounds of the ballroom, the beer garden and the concert hall, fusing elements of regional accordion styles with jazz and avant-garde music.
Forget everything you thought you knew about the accordion.
The Seattle Weekly
Hired to the faculty of New England Conservatory of Music
I am honored to have joined the faculty of New England Conservatory of Music to teach accordion, beginning September, 2020.
Giya Kancheli: Miniatures
Pianist Jenny Lin recently invited me to join her as accordionist and arranger for her latest recording project for the Sono-Luminus label, the Miniatures of the late Georgian Republic, Giya Kancheli. This will be the first recording of the complete set of 33 pieces, which we are doing as 6 accordion solos, 10 duos, and the remainder as piano solos. Because of the times, we are doing this in a virtual format: Jenny recorded her parts at the Sono-Luminus studio in Virginia in July. Just last week, I recorded my contributions here at Casa Klucevsek--i.e, all 6 solos and over-dubbing all the accordion parts for the 10 duos. Everything went very smoothly, with Andreas Meyer, the audio engineer, set up in our basement; and, by ethernet/Zoom hook-up, the producer, Daniel Merceruio in Virginia. Anxiously awaiting the results of the editing/mixing process. The recording will hopefully be released sometime in 2021.
March 1, 2018
Sheet music for the oldest composition in my catalogue, "Variations on an Aeolian Theme," is now available. You can find a sample on the "Sheet Music for Guy's tunes" page of this web site. The piece uses both stradella and free bass, and illustrates that my love of theme-and-variations form was there right from the get-go.
Sept. 1, 2018
Memorial Service for Senator John McCain. Performing "Danny Boy" with Renée Fleming and the Diderot Qt.
Washington National Cathedral, D.C.